4 in 1 bungee trampoline mini jumping trampoline for kids and adults
Brand : Jiananmeidi
Product origin : Guangdong,China
Delivery time : 15 Days
Supply capacity : 500 sets/year

Outdoor bungee jumping with a jump bed, a pair of elastic rope and strut column, which make you jump up and down in the sky. It allows you to increase your coordination in the air, and be able to get fit and enjoy a lot of fun.Bungee belongs to gymnastics and is called "ballet in the air".It is one of the best amusement equipment to improve the comprehensive ability of human being, not only can you keep fit, but also be able to take the courage to raise a lot.
Selling point:

1, Jumping mat is made in pp mat.

2, Without electricity, You can play anytime and anywhere

3, Low price, anyone can buy it.

4 ,The disassembly and installation is simple, does not occupy a space to transport

5, The height of 4 meters, the play is very exciting. It's adventure and popular with teenagers

6, It's safety because of the rope at the bottom to maintain the stability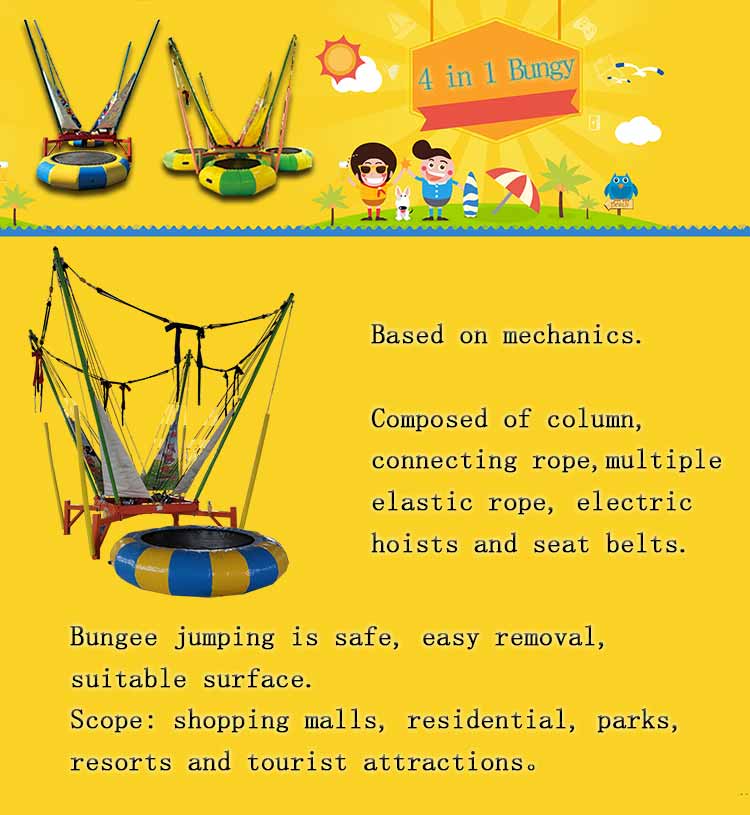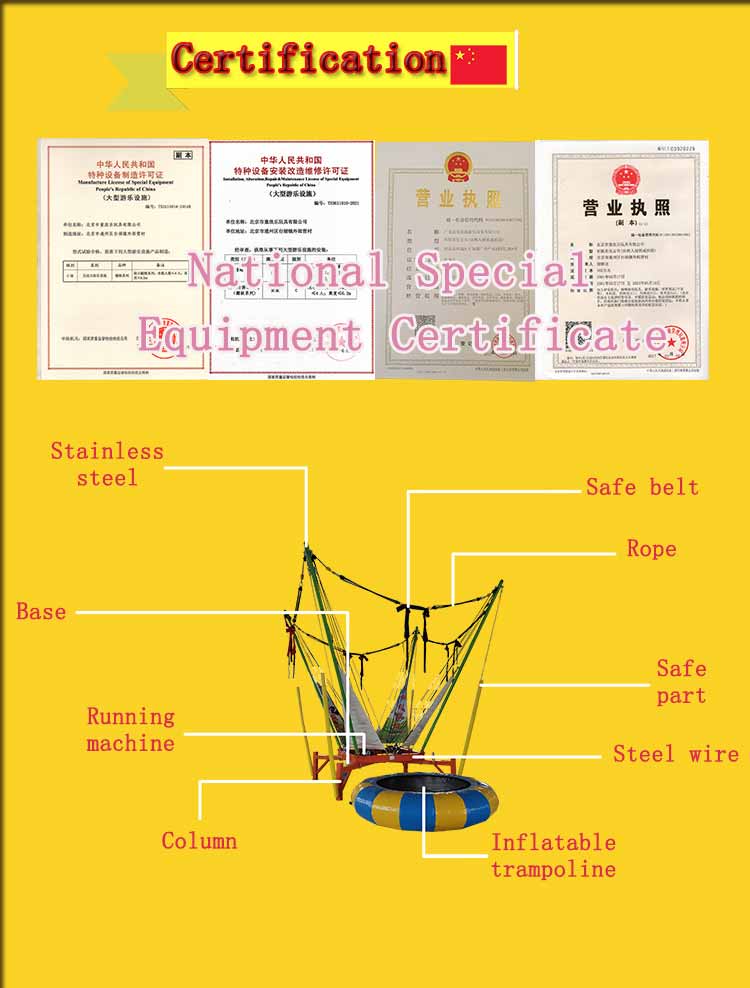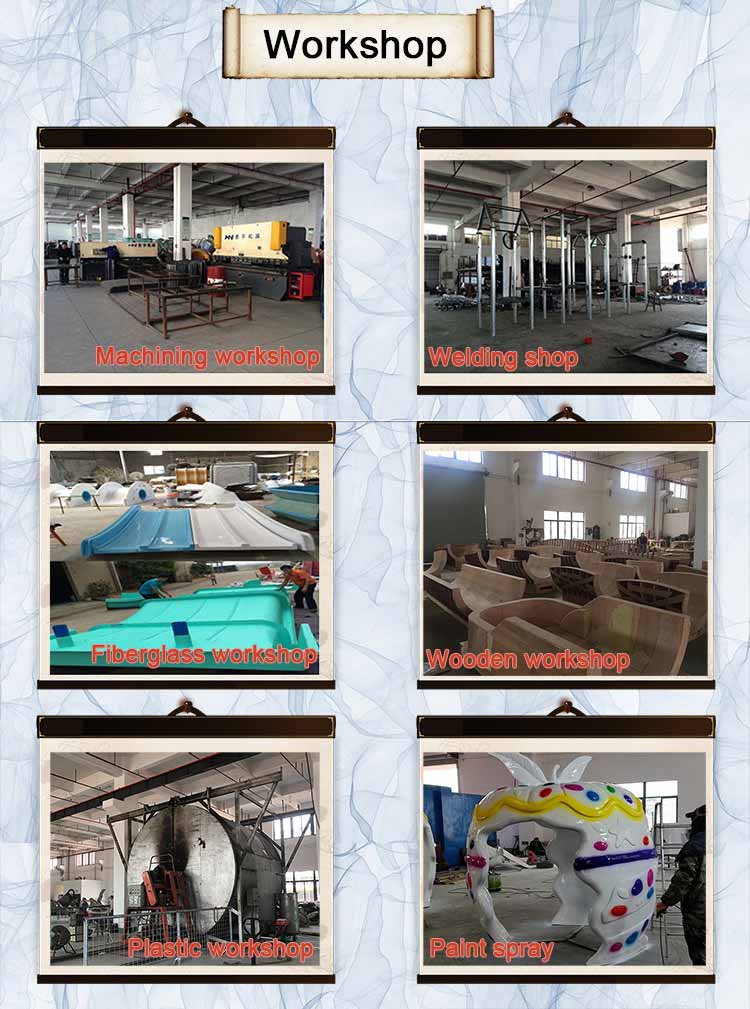 Trade Name: 4 in 1 bungee trampoline mini jumping trampoline for kids and adults

Material : Imported PP jumping cloth,galvanized steel +PVC
Size: 7*4-7*4.8/5.5M
Power: 950W
Speed: <=6.2m
Voltage: 3N+PE 380v/220v 50HZ
Color: Customized
Capability: 1 - 4 people
Type: Amusement Equipment
Function: Stimulated children curiosity,exploring desire,and advanced their team work and adventurous.
Usage: Kindergarten,amusement park,garden,public places etc.

Packing Detail: Cotton inside, wrapped with pp film.
Advantages:
1. Environmental Design

2. Anti-corrosion, fire-proof, mothproof, easily cleaned-up
3. Professional manufacturer, Non-toxic, environmental-friendly material, Non-toxic, environmental-friendly material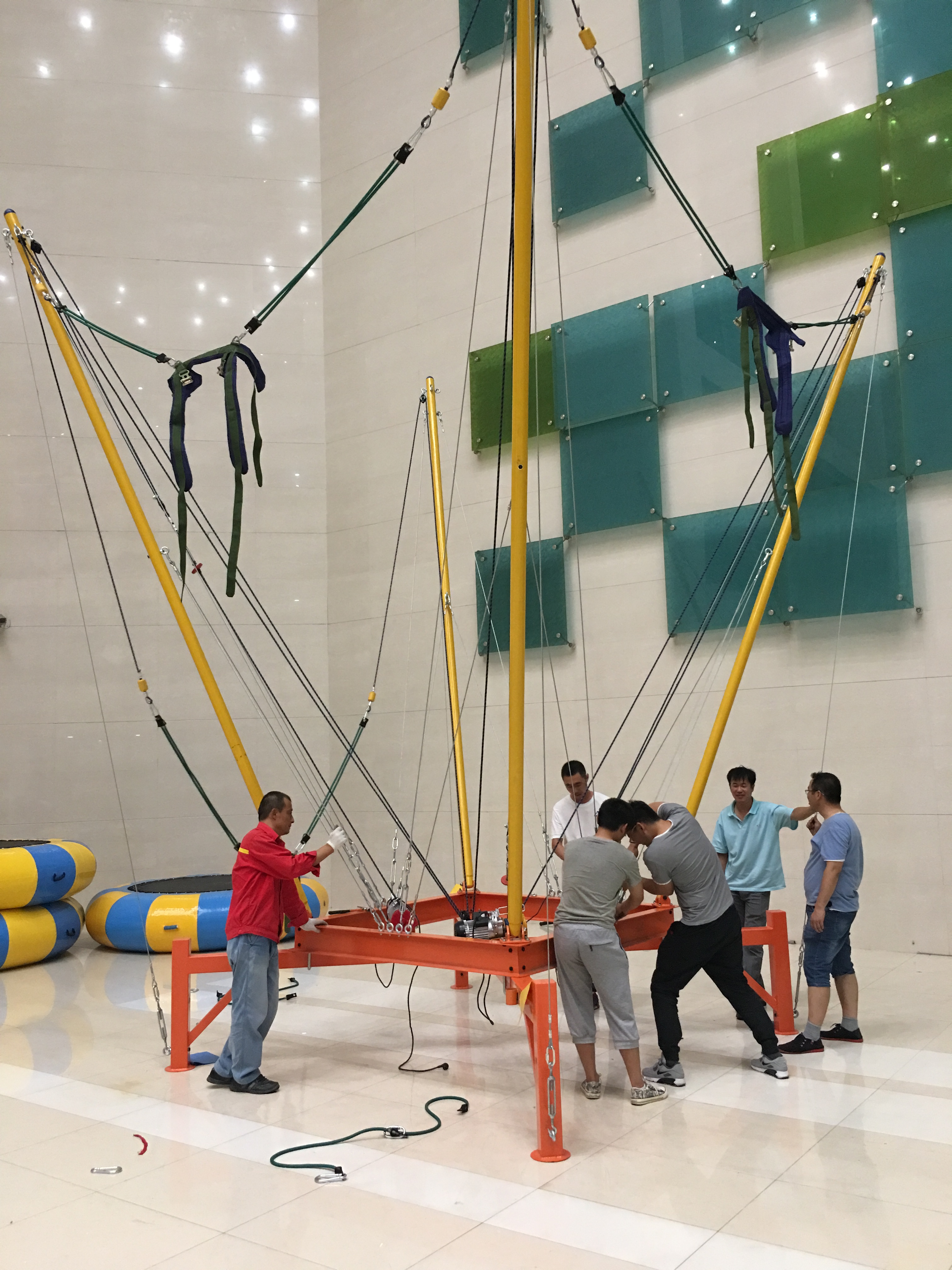 The biggest feature of our bungee jumping bed is that the steel pipe is much thicker and thicker than any other factory, so it is safe.
Use high quality stretch rope and black net.
The height is 6 meters. The feeling of being in a big bungee is just as exciting.
The transportation doesn't take up space.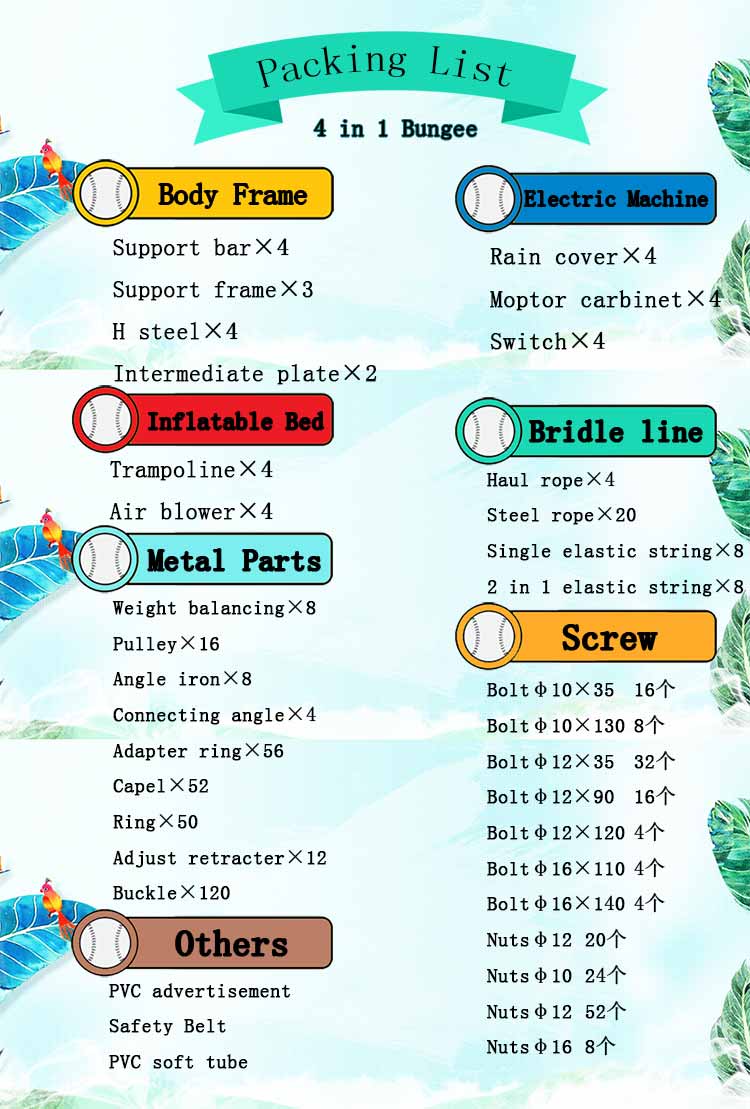 Guangdong Jiananmeidi Amusement Equipment Co., Ltd is one of the largest comprehensive amusement equipment manufactures in China, operating as a subsidiary of Beijing Tongxinle Toy Limited. It is incorporated in Guangqing Industrial Park, Shijiao Town, Qingcheng District, Qingyuan City, Guangdong Province, where it has established a factory with a land area of about 20,000 squaremeters, consisting of a separate office building and modern R&D and production workshops. As an integrated manufacture of large amusement equipment with product R&D, production, marketing, engineering and project planning capacity, the company focuses on providing professional one-stop services, covering the planning, design, engineering, construction, management and operation of water park, electric equipment, outdoor sports facilities, landscape and amusement equipment projects.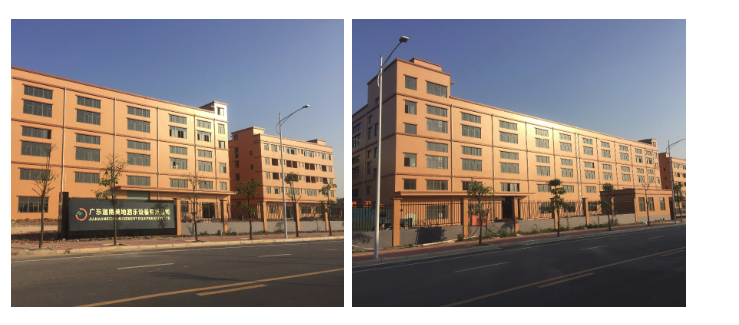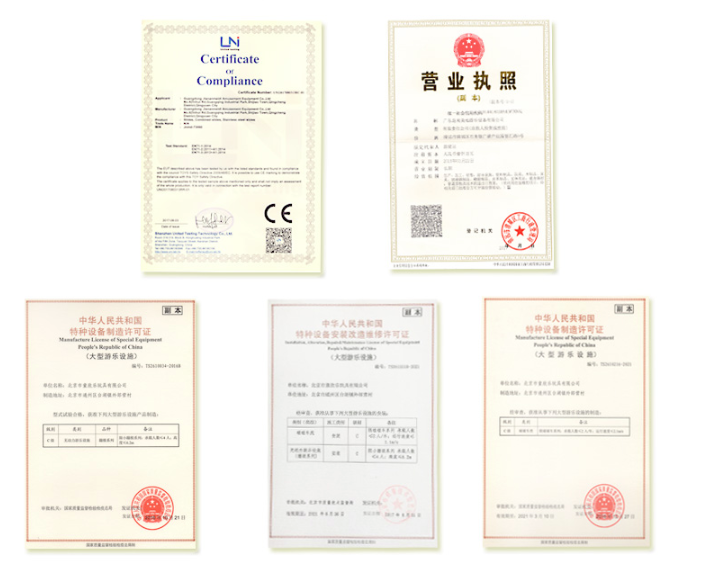 Key Products: water slides, water park, splashing products, bumper cars, bungee jumping equipment, trampoline, indoor playground, carousel, sky wheels (Ferris wheels), disco turntables, pirate ships, giant strides for children, naughty forts, children's park, wooden equipment series, outdoor training, integrated slides, children's amusement equipment and landscape products, for kindergartens, schools, playgrounds, communities and other applications. As an export-oriented company, it sells products across the world, and is well received and trusted by customers.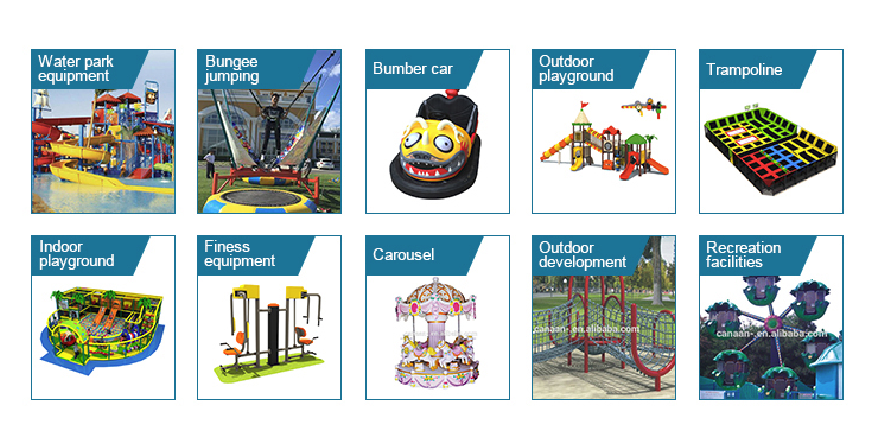 1. We will provide best quality products and competitive price for you.
2. Give you suggestions for equipment selection. Make design for you according to your land information and requests.
3. Send engineers to your site to supervise your workers to instal the equipment.
4. Guide your staff to operate the equipment and to manage the water park.

Please feel free to give your inquiry in the form below. We will reply you in 24 hours.